Greenhouse technology
For many years we have been engaged in the design, sale and installation of complete energy-saving and energy-shading curtain systems. Working with leading manufacturers such as Alweco, Phormium and De Gier allows us to tailor solutions to each farm's needs, ensuring effective and reliable performance for many years.
Phormium
Phormium screens, agro-textiles and mushroom and compost mats are characterized by durability and the highest technical quality. They are the result of thorough research and insight into the specific needs of growers. That's why our ambition is to offer growth-oriented solutions inspired by our worldwide expertise.
Phormium offers both diffusion curtains and shade curtains with aluminum strips.
Closed diffusion screens such as Clima + or PhormiTex Lumina shade and diffuse sunlight and prevent plant burns. The light disperses evenly to the plants, resulting in higher and consistent yields across the entire growing area. This creates a pleasant atmosphere on hot summer days.
Aluminum PH and PhormiTex screens provide exceptional energy-saving capabilities. In winter when temperatures drop, it is very important to accumulate it. Aluminum strips and a woven structure provide high insulation and save more energy than diffusion screens.
Aluminum screens are ideal night guards. Energy savings are maximized after dark, and the screen is opened soon after sunrise.
All closed screens contain a special acrylic thread that attracts condensed droplets on the inside of the screen and transfers moisture to its surface, where it will be able to evaporate, escaping directly through the screen. Excess moisture is easily transported, which has a positive effect on the crop.
Excess moisture is easily transported, which has a positive effect on the crop.
Phormium offers 2 types of curtains: diffusion curtains ( Clima+ or PhormiTex Lumina O) and open curtains with PH O aluminum strips. Our woven, open curtains are up to 38% more open than alternative products with the same degree of shading.

Diffusion screens Clima + or PhormiTex Lumina O have shading properties (protect plants from burns) and cause dispersion of rays to a certain extent. In this way, light is distributed evenly over the crop, resulting in a higher and more consistent yield across the entire area.
The PH O curtain shades sunlight and provides maximum cooling effect on hot summer days, thanks to highly reflective aluminum strips. In winter, the screen can be used at night to reduce heat loss that could cause condensation on plants.
Energy-saving air curtains
Phormium offers 3 types of transparent energy-saving screens. They are characterized by the unique Phormium weaving technology. It makes the screens durable and strong and provides excellent energy savings over the full life cycle of the screen.
PhormiTex Clear increases humidity and is therefore an ideal screen for growing young plants or for full climate control if other dehumidification options are available. On the other hand, PhormiTex Bright and PhormiTex Super are curtains that regulate humidity, thanks to the use of acrylic thread mesh. In addition, PhormiTex Super is an energy-saving, highly diffusive curtain and disperses light rays in different directions.
PhormiTex Eclipse are a group of non-flammable blackout curtains. The unique weaving technology provides maximum shading effect, which is higher than that of interlaced curtains. Various combinations provide the best solutions for growing short-day crops.
PhormiTex Eclipse 1 is an all-black woven curtain with very high shading properties. PhormiTex Eclipse 98 is a woven curtain with an aluminum layer for high levels of light and heat reflection.
Recently, PhormiTex Eclipse Dry was launched: a 3D fabric with active moisture transport. Eclipse Dry offers the same shading capabilities in a single fabric as in a standard double fabric.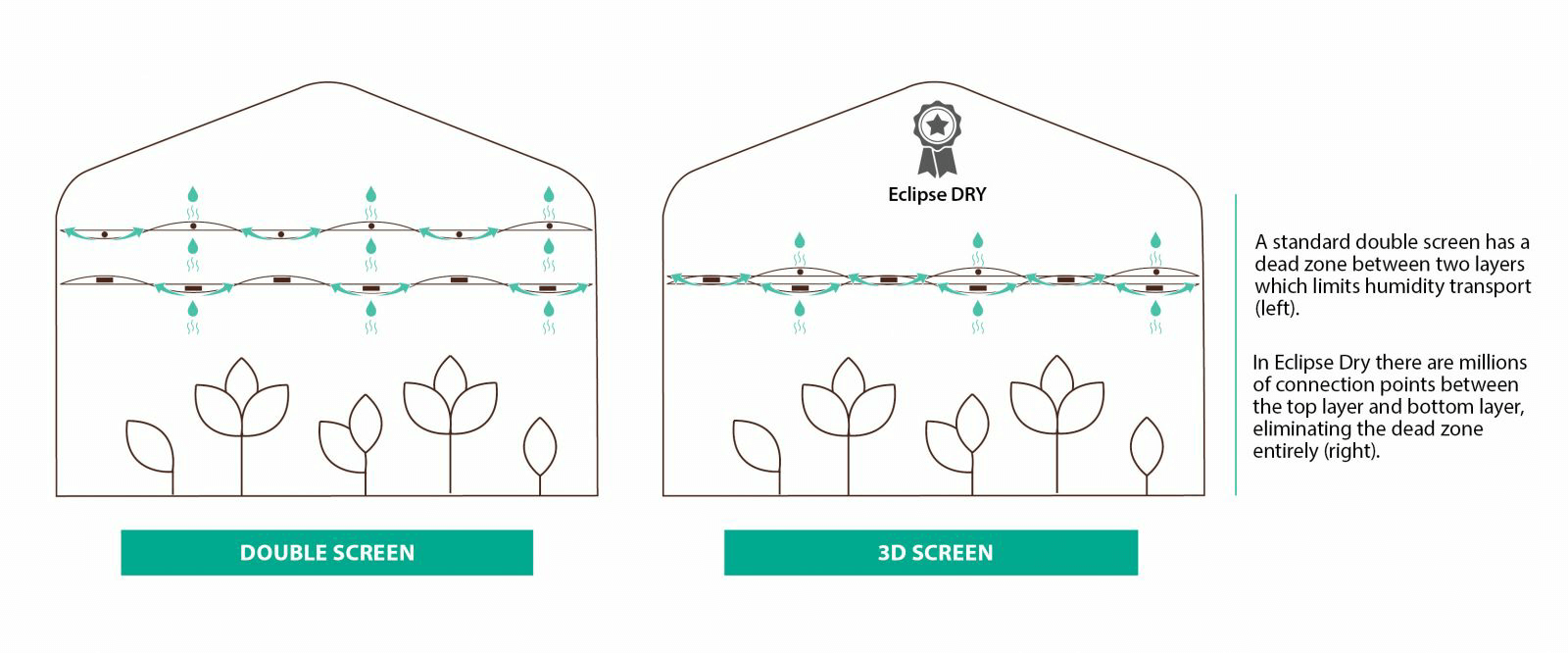 All of these screens can be easily combined with PhormiTex Eclipse White if a white layer for reflectivity is desired.
The following combinations are possible:
PhormiTex Eclipse 1 + 1: the best value for money on the market.
PhormiTex Eclipse 1 + 1 + White: best value for money due to light reflection.
PhormiTex Eclipse 98 + 1: the world's most preferred shading system.
PhormiTex Eclipse 98 + 98: complete blackout + maximum energy savings + assimilation light reflection.
PhormiTex Eclipse Dry +1: the darkest screen in existence.
PhormiTex Eclipse Dry + White: high darkening ability + active moisture transport + light reflection.
Phormium offers a wide range of curtains designed for sidewall and sealing applications. PHL air curtains are characterized by high quality workmanship, as well as a wide range of possible applications.
Thanks to our long-standing cooperation with the leading supplier of greenhouse system components Alweco, we can offer you a variety of solutions for maximum energy savings, optimal climate control and complete shading of your facilities.
Single, double and triple layer systems driven by a pull wire (cable) or push pull (rack and pinion) system are available. Designed with Alweco specialists, they take into account the type of crop and all conditions and expectations of customers, using the latest technological solutions for optimal operation, efficiency and convenience.